27 Swag Giveaway Ideas that Aren't Junk
Planning to attend a tradeshow or host a giveaway? Swag giveaway items are a common way to attract attendees to your tradeshow booth and leave them with a free branded item. When hosting a giveaway, whether that's in-store or on social media, brands can choose to give away their companies items and a few swag giveaway items. Everyone loves free promotional products and apparel, but giveaway swag commonly ends up in the trash. Occasionally, there's a giveaway item that stands the test of time, but how? Successful swag giveaway items consider the audience, tradeshow location, industry, brand, and usefulness of the swag item.
Here at BR Printers, we bring companies high-quality branded items that your potential and current customers will love. With this expertise, we've put together a diverse list of 27 swag giveaway ideas to help spark creativity and inspire your company's swag giveaways. If you see a great swag item that fits your giveaway, contact us today and we'll put you in touch with a promotional products expert!
Why do companies give away swag?
Have you ever wondered, why do companies give away swag on social media, at tradeshows, and during the holidays? Why use promotional products at all? Promotional swag is a low-cost form of marketing that shows goodwill, has a long lifespan, and helps build company loyalty.
1.      Journals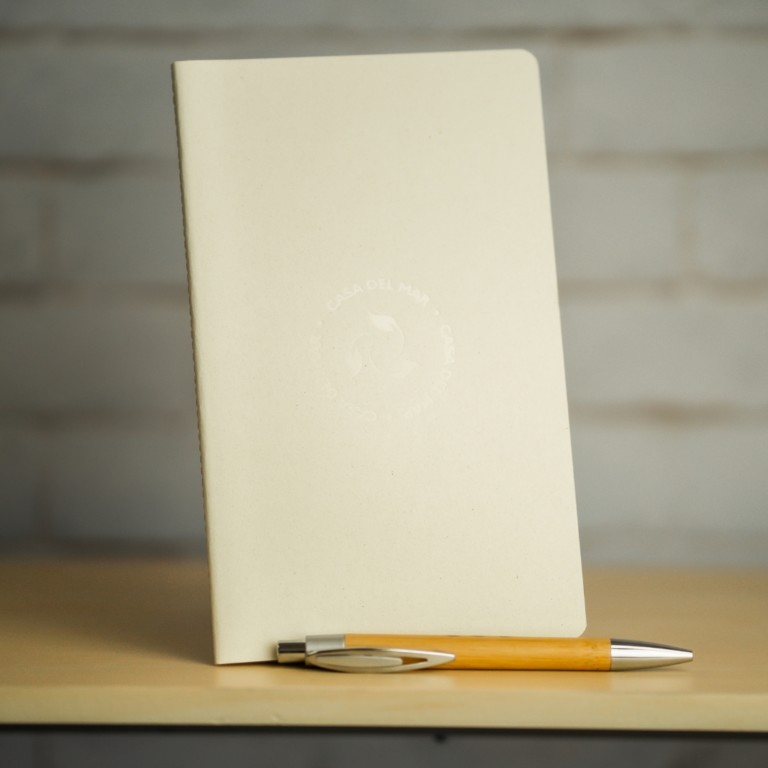 Branded journals can range in size, color, paper, style, and more. This is a great swag idea that potential and current customers can use to take notes about the tradeshow, your booth, and more.
2.      Tote Bag
Tote bags are fashionable and functional. You can choose to decorate a tote bag with a fun design or logo. The best part about giving away tote bags at tradeshows and events is that attendees will use those tote bags during the event to carry around their personal items and other giveaway items they receive.
3.      Pens
Pens are classic choices for company swag giveaways. When done well or paired with journals, pens can be an effective way to spread awareness. If you're hoping to give an item that won't end up in the trash, consider a higher end pen.
4.      Hats
Logo apparel, such as branded hats, are always a very popular giveaway item. While hats can be more pricey than smaller giveaway items, they have a long lifespan.
5.      Sunglasses
Sunglasses are a popular giveaway item. Companies choose to add their logo somewhere where on the glasses and leave them out on their tradeshow table for conference attendees to grab. Keep in mind that low quality sunglasses can end up broken or thrown away very fast so if you choose to give out sunglasses, be mindful of the quality and quantity that you purchase.
6.      Laptop Sleeve
Laptop sleeves are a great giveaway item, especially if your audience is full of professionals, creatives, or people who are constantly bringing their laptop around with them. There are many branded laptop sleeve style options to choose from.
7.      Microfiber cloth
A microfiber cloth is a small giveaway item that is also very affordable. This could also be a very useful swag idea for your specific audience.
8.      Hand Sanitizer
Hand sanitizer is essential for travelers and tradeshow attendees, why not give them hand sanitizer with your logo on it? Everyone could always use more hand sanitizer!
9.      Drinkware
Drinkware giveaway items could be wine tumblers, water bottles, glasses, and more. To this day, drinkware is one of the most popular promotional products on the market. If you want to give an item that will get used often by many people, drinkware is the way to go.
10. Apparel
Apparel giveaway ideas include t-shirts, office wear, outerwear, bottoms, headwear, and more. Apparel can be used for any type of company swag giveaway and the best part is when you have left overs, you can sell them!
11. Stuffed Animals
Get creative and customize a stuffed animal for your next giveaway! Depending on your industry, this could be the perfect giveaway item.
12. Push Pop Games
Have you seen these push pop games around lately? Well good news, you can customize them with your company logo!
13. Playing Cards
Playing cards are a classic and fun giveaway idea. Add your colors, taglines, and logos to playing cards and potential and current customers will see your logo hundreds of times around the dinner table with friends.
14. Custom Masks
Customize high end masks with your company's logo. Many tradeshow attendees will be wearing masks for protection and travel safety anyway, why not give them a brand new clean mask with your logo?
15. Note Pads
Notepads are available in different styles and sizes. This useful giveaway item will travel home with your tradeshow attendees.
16. Sustainable Webcam Cover
Leave webcam covers out on your table to attract attendees or add them to a conference swag pack full of giveaway items. This specific webcam cover is sustainable!
17. Charging Cables
You never know when a pack of charging cables will come in handy. When potential and current customers are in desperate need of a charge, they'll be so thankful they received this giveaway item.
18. Bluetooth Headphones
If you're looking for an item that blows other giveaway ideas out of the water, you're looking for Bluetooth headphones. People will happily to accept your giveaway item and not toss it the minute they go home. That's the goal, right?
19. Custom Socks
Custom socks are completely customizable meaning they can have to colors, logo, and design elements of your brand. Choose these for your next giveaway!
20. Stickers
Want to share more than just your logo? Does your company have fun slogans, designs, or trendy icons? Add a sticker sheet to your giveaway items and see your brand all over water bottles, computers, and more!
21. Can Coolers (Koozie's)
Do your potential and current customers a favor, keep their drink cold with a can cooler. Customize can coolers so each time people go to crack a cold one, they're reminded about your brand!
22. Luggage Tags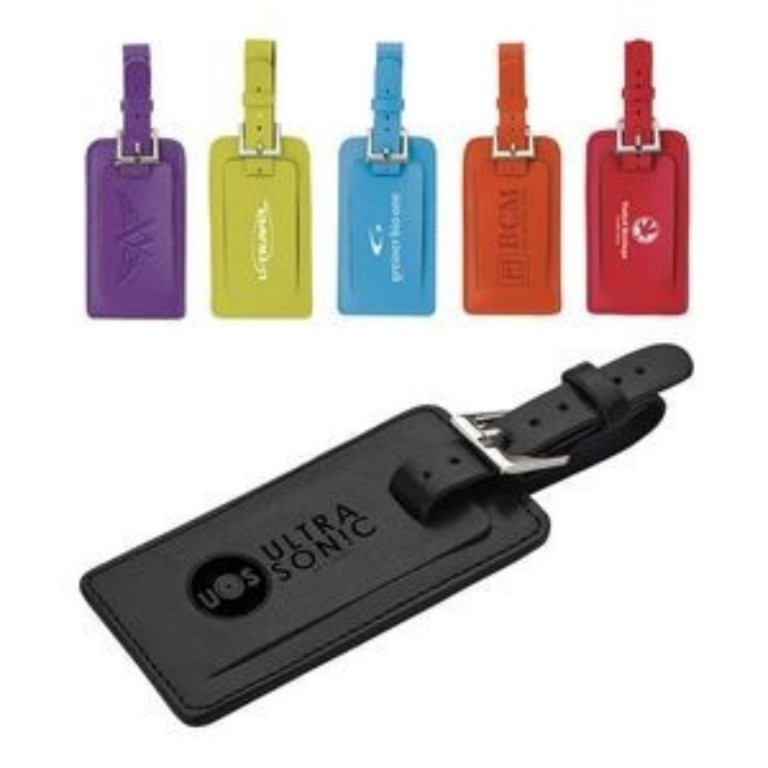 Lots of tradeshow attendees are frequent travelers, help them track down their luggage with custom luggage tags. Every time they see a suitcase go by with your logo on the luggage tag at baggage claim, they'll know it's their bag.
23. Cooling Towel
If your audience is constantly out and about, golfing, surfing, or running a branded cooling towel is a useful giveaway item they'll love.
24. Mini Bluetooth Speaker
Mini Bluetooth speakers are affordable and can be used in the office, during travel, or at home. This giveaway idea is a customizable tech item for all audiences.
25. Lanyards
Lanyards are specifically useful at tradeshows and conferences for attendees to keep their nametags on. Lanyards spread awareness and increase brand recognition among all tradeshow attendees.
26. Small Dry Bag
If your audience is the outdoorsy type, they'll love this small dry bag. Each time they use it to keep their items safe, they'll see your company logo and colors. This creative gift is a great way to strengthen customer loyalty.
27. Reusable Straws
This eco-friendly aligns with many company and individual sustainability efforts. Add reusable straws to a whole group of sustainable give away items or give it out on its own.
Add Value to your Giveaway
Here at BR Printers we want you to make an impact with your company giveaway by choosing items your potential and current clients will want to have in their day-to-day life. Spread awareness with promotional merchandise and logo apparel from BR.
BR Printers started as an educational and trade printer in San Jose, CA but now we've diversified our capabilites and national footprint. We're happy to be based in San Jose, CA with facilities in San Diego, CA, Denver, CO, Appleton, WI, Cincinnati, OH, and Independence, KY, BR is now a provider of high quality large format printing, commercial printing, labels, marketing, value chain, and logistics management to marketers and the publishing industry's most recognizable names.
Topic

Promotional Marketing

Date

12.19.2022

Author:

BR Printers